Jan Kodes
Education
1973 Graduated from the University of Economics, Prague. Specialization in domestic trade.
Business Experience
2001 - 2003 Prague CZ Fashion s.r.o. established to open another luxury shop for the new Hugo Boss woman wear at famous Parizska street. Re-constructed and opened 140m2 site for "women" line, which started worldwide. CEO was responsible for overall strategy.
1994 - 2003 KP Fashion Group s.r.o. found with two other partners, an official partnership agreement with Boss Hugo Boss, Germany for selling men´s wear products. As CEO re-constructed and opened 250m2 mono-shop on Jungmanovo square in Prague.
1992 - PRO TENNIS JK Consulting
Tennis Executive Experience
2008 Enshrinee Nominating Committee ITHF
2006 Golden Achievement Award ITHF/ITF committee
1994 - 1998 President of Czech Tennis Federation
1982 - 1998 Board member of Czechoslovak Tennis Federation
1987 - 1998 Founder and Tournament Director ATP Tour Czech Open event
1990 - 1997 Member at ITF and ETA committees
1986 - 1992 Executive Director of Czechoslovak Tennis Centre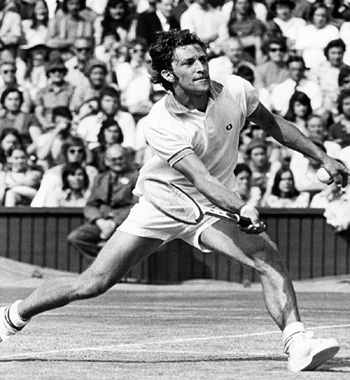 Languages
Good level both written and spoken English. Additionally understanding of Russian and German.
Grand Slam Record
Wimbledon
Singles WON
1973
French Open
Singles WON
1970-1971
Doubles finalist
1977
US Open
Singles finalist
1971, 1973
Tournament Record
Davis Cup
CZE Team Member
1964-1980
Finalist
1975
WON
1980
Italian Open
Singles finalist
1970-1972
Doubles finalist
1978
Spanish Open
Singles WON
1972
Doubles WON
1977
German Open
Singles finalist
1975
Doubles WON
1972, 1979
Czechoslovakian Nationals
Singles WON
1966, 1967, 1969, 1972
Doubles WON
1966, 1969, 1970, 1972, 1979
Mixed doubles WON
1967, 1969, 1972
Tennis Competition Experience
1982 - 1987 Davis Cup Team Captain
1964 - 1980 Davis Cup Team member - 96 rubbers (2 unfinished singles rubbers incl.)
1970 - 1975 World rankings: Top 10 - best ranked 4
1973 Wimbledon Singles Champion
1970 - 1971 French Open Singles Champion
1971, 1973 US Open Finalist
1970 - 1972 Italian Open Finalist
Awards
2013 Fair play award from Czech Olympic Commitee
2011 Sport Legend - Emil Zátopek Award
1990 Inducted to International Tennis Hall of Fame, Newport, USA
1988 ITF Award for Services in the Game
1973 Sports State Decoration for Outstanding Work